YOUR NEW
STEAKHOUSE
on the hill
Locally Sourced × Crafted with Love
Located in the historic Hill neighborhood of Saint Louis, Missouri, Carnivore STL is a flame-grilled steakhouse for the people of casual American dining from the esteemed Italian families of the Hill.
Photos by ED ALLER
Ranked as the best New Spot to Try in St. Louis: July 2018 (FEAST Magazine), Carnivore STL fills the nearly 4,000-square-foot space on The Hill with a dining area, bar lounge, and outdoor patio gracefully guarded by a bronze steer at the main entrance. The interior highlights an warm, contemporary feel, comfortable for everything from the serious business meeting to grandma's birthday alike. As you enter the dining room, a hand-painted mural of the Hill's culinary highlights, by artist Wendy Weller, colorfully connects diners to the new addition to the neighborhood.
Local friends Joe Smugala and Mike Lutker, and their better halves, Kerri Smugala and Casie Lutker, created the steakhouse from places that they loved to share with friends. The couples both have roots in the neighborhood as Casie's great-uncle was famed former resident and sports icon Yogi Berra and the Smugalas own the Hill BBQ spot, J. Smugs GastroPit, which debuted on the Hill last year. Mike Lutker, who previously ran the kitchen at the nearby Gian-Tony's Ristorante for seven years, serves as the head chef to guide the contemporary comfort cuisine.
BE OUR GUEST
Revel in the food and hospitality of St. Louis when you visit our classic steak house. With friendly service and food created with love, this family will make you & your party feel like members of theirs before you leave.
Hours
DINNER
MON Closed
TUE 4p – 9p
WED 4p – 9p
THURS 4p – 9p
FRI 4p – 10p
SAT 4p – 10p
SUN 10a - 2p
BRUNCH
SAT & SUN 10a – 2p
HAPPY HOURS
MON - FRI 4p -6p
CALL US
314 - 449 - MEAT (6328)
Our location
5257 Shaw Avenue
St. Louis, MO, 63110
United States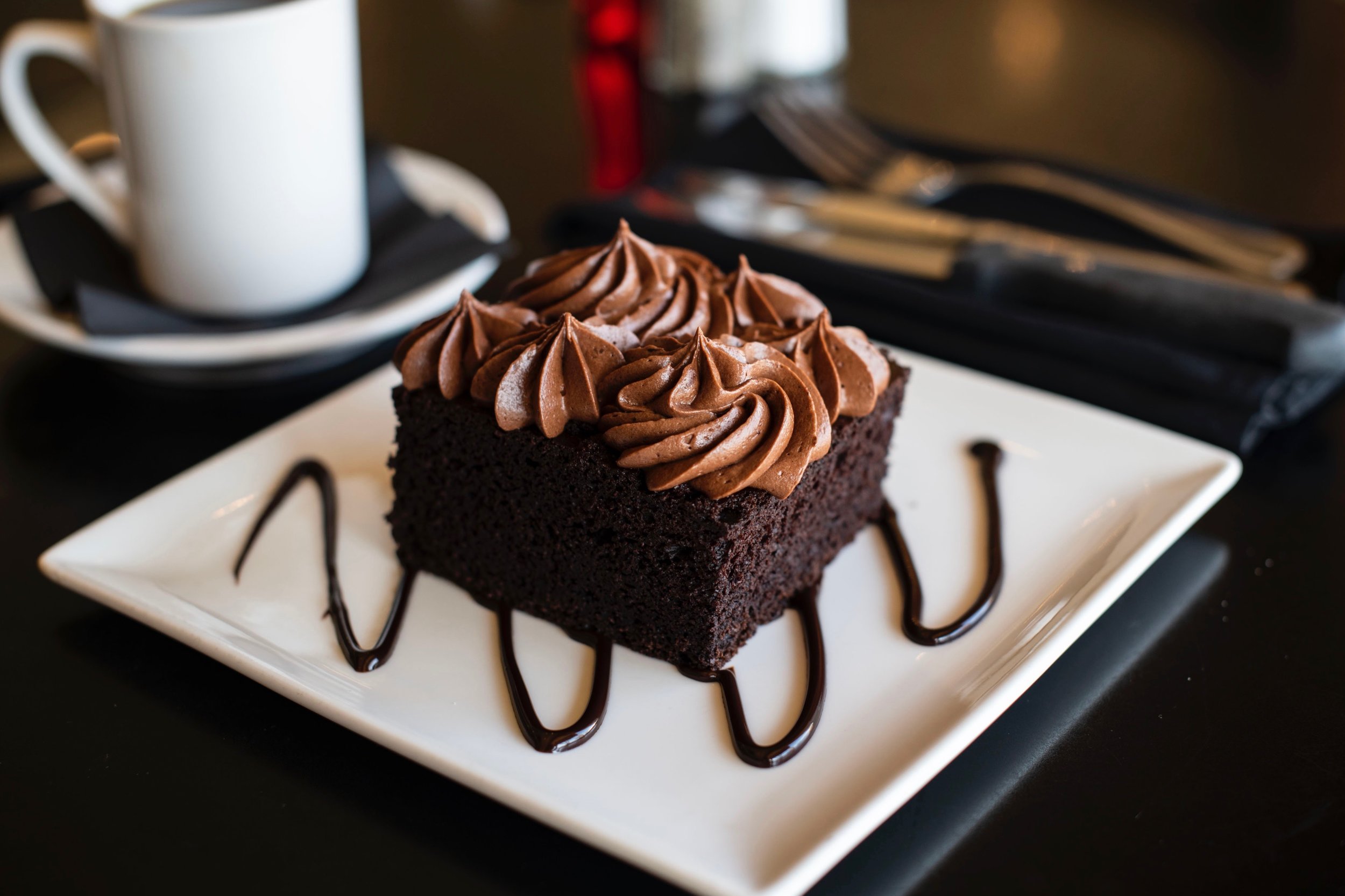 Don't Forget BRUNCH on SATURDAY and SUNDAY from 10am - 2pm
Bring the whole family in and let us take care of everything!
SPECIALS OF THE WEEK
WE KEEP THE OPTIONS OPEN AND SELECTIONS FRESH TO GIVE YOU A NEW EXPERIENCE EVERY TIME YOU JOIN US!
HAPPY HOUR SPECIALS
EVERY TUESDAY - FRIDAY 4 - 6pm
Great drink specials, tasty bites, and even better company. Come try some bitesize versions of some favorite appetizers like cheese-filled Aracini Balls and savory Steak Medallions.
NEW WINE MENU
You don't have to be a wine connoisseur or vineyard expert to appreciate the taste of a glass of wine. At Carnivore, we have incorporated selections that accommodate all our guests into our new wine menu that was released this past week.
With this new menu launch, we are also excited to feature a RESERVE LIST. We have some new bold choices our servers would love to share with you.
From Prosecco to Pinot Grigio or Barollo to a Super Tuscan, come to Carnivore to experience a selection from all over the world. The delicious flavors serve as the perfect partner complimenting Chef Mike's culinary creations
VINO SATURDAYS at Carnivore!
Stick around after Brunch on Saturday (10am-2pm) and enjoy 1/2 priced bottles of wine from 2-4pm! Choose from our great selection of bottles from all over the world!
IN THE PRESS
WE LOVE TO SHARE OUR STORY.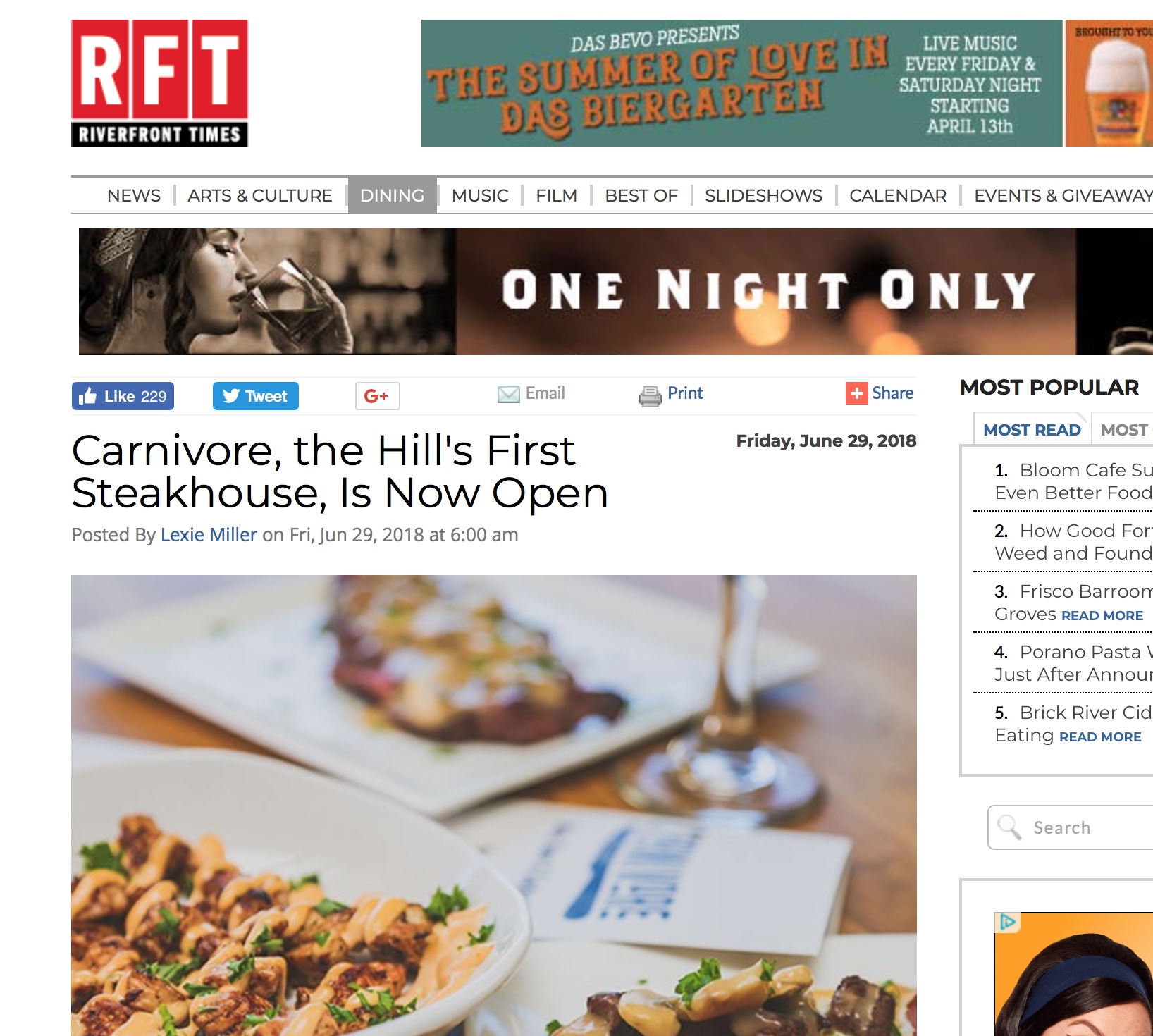 RIVERFRONT TIMES - FEATURED RESTAURANT
"Joe Smugala and business partner Michael Lutker wanted to give their neighborhood, the Hill, something new — a steakhouse. In a place dominated by classic Italian eateries, it might sound like a crazy idea.
But Smugala has experience coloring outside the lines. A few years ago, he opened the neighborhood's only barbecue joint, J. Smugs GastroPit. He was ready to take a gamble again, and this weekend, Carnivore (5257 Shaw Ave., 314-449-6328) officially opens its doors.
Smugala has been in the restaurant business since 1989, when he opened a pizza place, Smugala's Pizza Pub, now located in Arnold. "I've always liked to grill," Smugala says....."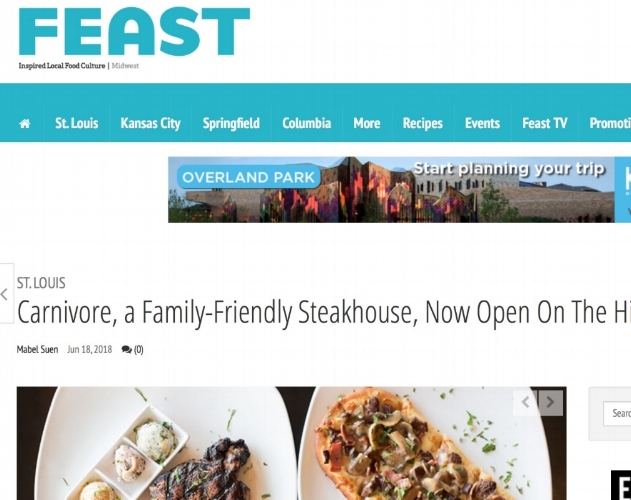 FEAST MAGAZINE - FEATURE June 18, 2018
"We're really steak-centered, hence the name, and that's what we focus on and take pride in," Joe says. "We also have a little bit of Italian flair. Most restaurants on The Hill have a steak, but we wanted to really focus on it and it well. That's why we brought this concept here."
"A lot of the food here is what we cook at home. We'e brought it over and made it on a larger scale as fresh as can be," Mike says. "Seeing the butter melting on your steak when it comes to your table is so mouthwatering and appealing. The juiciness and flavor of the steak is ridiculous."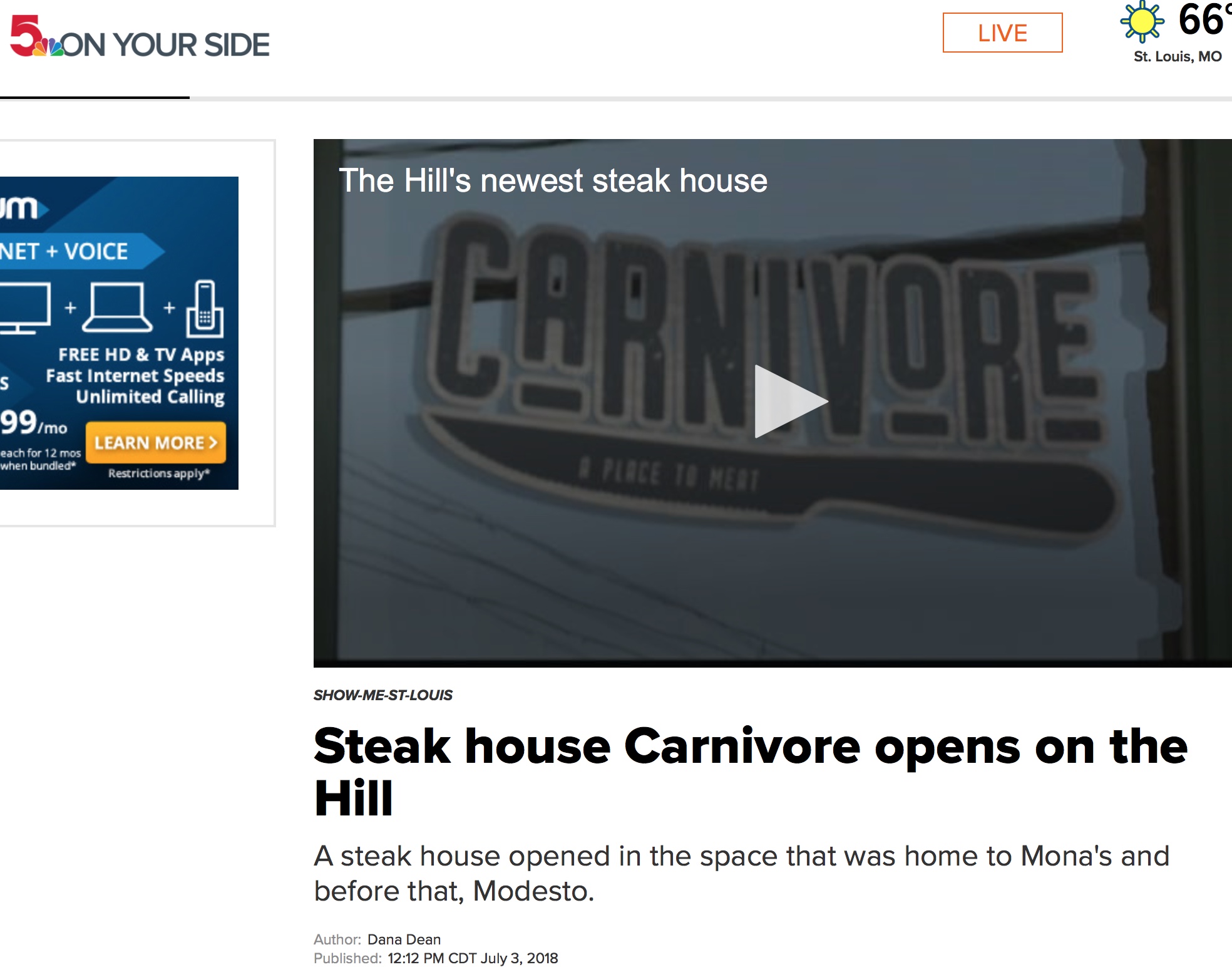 NBC (KSDK-CHANNEL 5) SHOW-ME-STL NEWS FEATURE
Dana Dean-
July 3,2018
ST. LOUIS — Carnivore comes from the same family who opened a barbeque joint on the Hill called J Smugs GastroPit.
The steakhouse is located on the corner of Shaw and Edwards on The Hill, in the former Mona's space.
The Beef Modiga Flatbread is a popular item on the menu. And of course you can a 14-ounce ribeye or 10-ounce filet with a side of shrimp.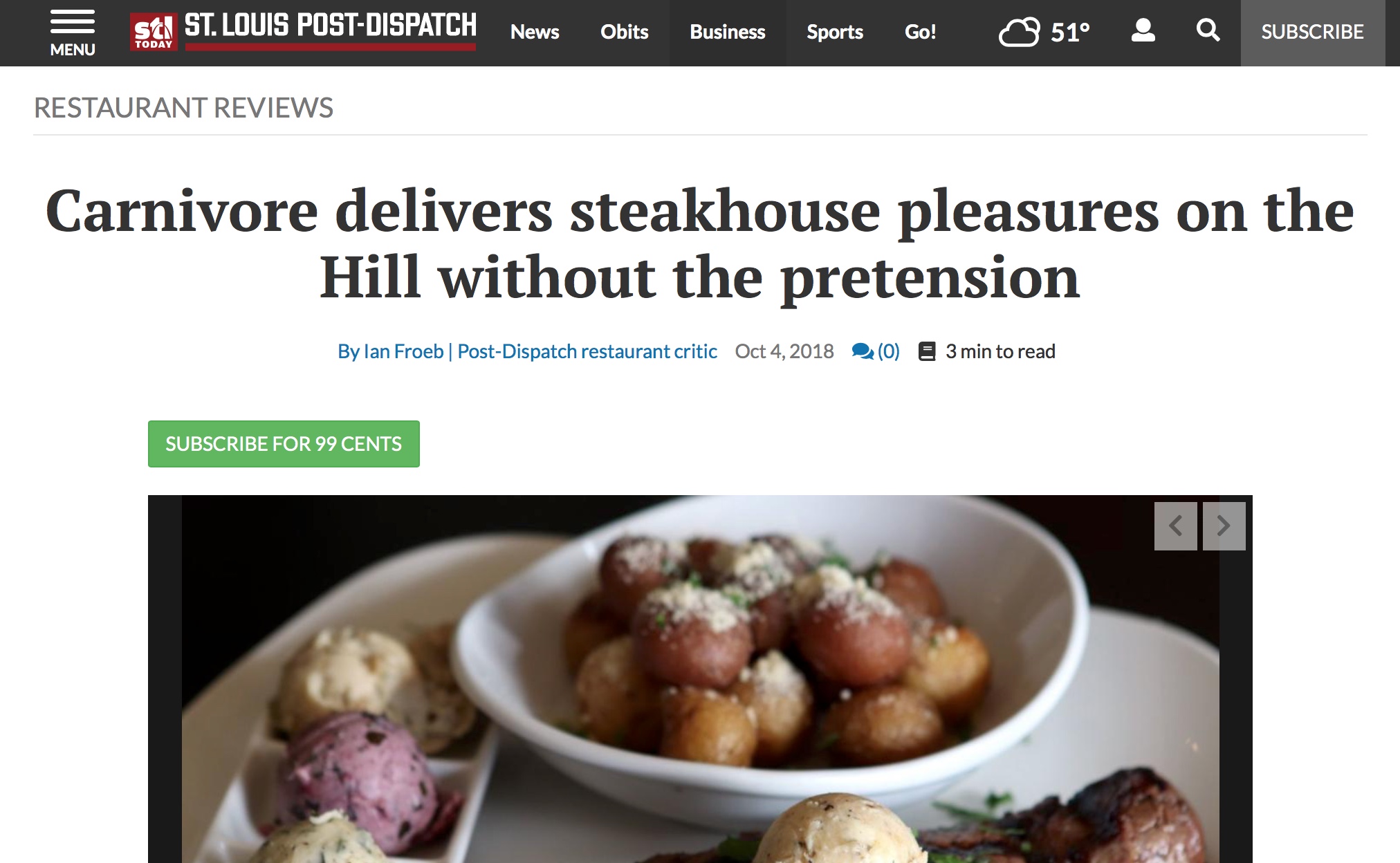 STL POST DISPATCH CRITIC REVIEW
Ian Froeb / Oct 4, 2018
"A steak won't cost you a week's paycheck; a bottle of wine won't require a second mortgage. "
"Carnivore's plump arancini ($8) offer that satisfying contrast of crunchy exterior, sticky risotto-style rice and molten Provel cheese. The shrimp scampi ($16) is bright and punchy, with strong notes of lemon and garlic and a briny caper pop."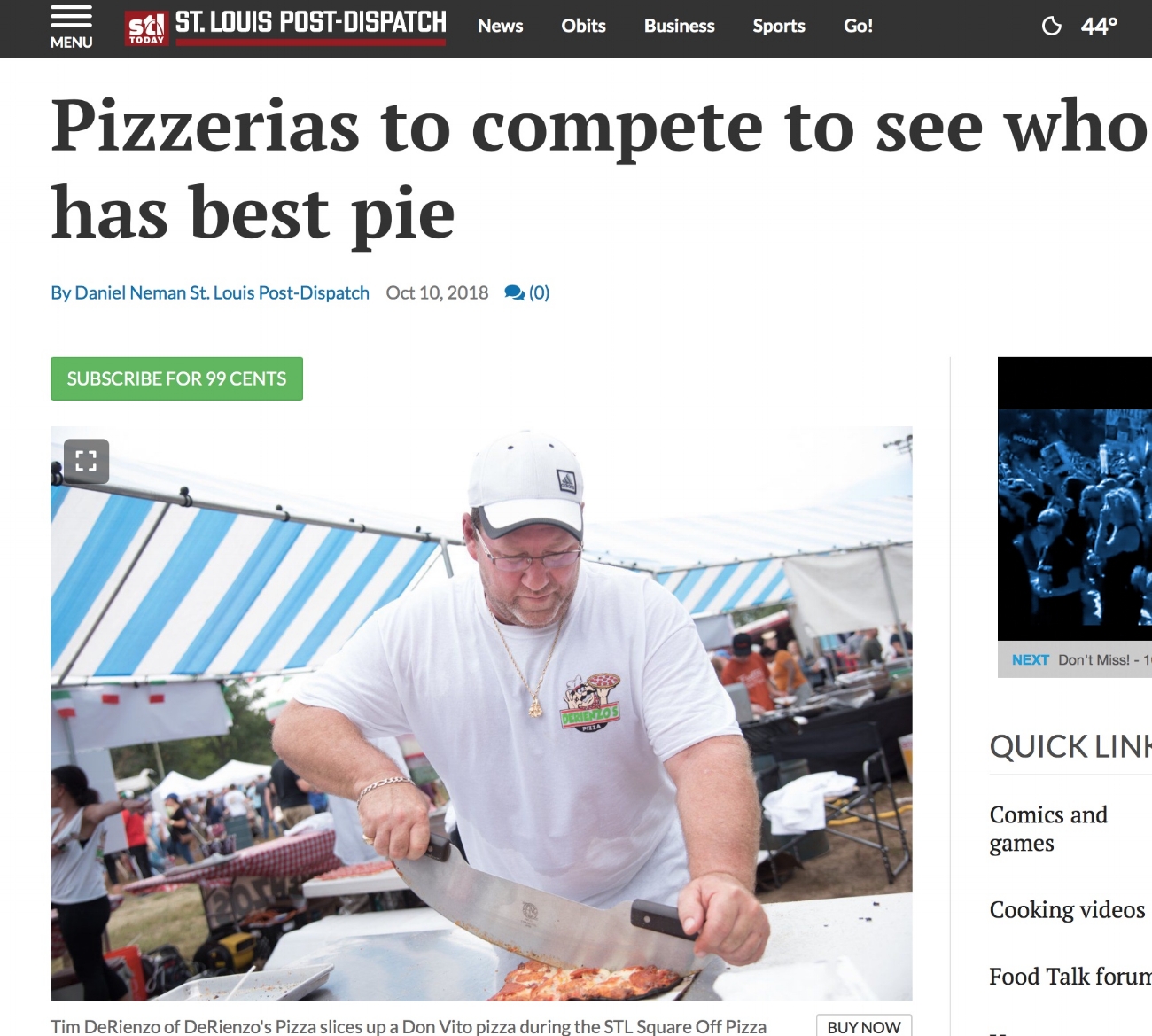 STL POST - DISPATCH
Pizzerias to compete to see who has best pie
Daniel Neman
Oct 10, 2018
Yes, the lines are long. But at the end of each one is pizza.
The STL Square-Off Pizza Festival on the Hill will be held Sunday in Berra Park. Eight local pizzerias will go head to head to head to head to head to head to head to head to determine whose slice is beyond compare.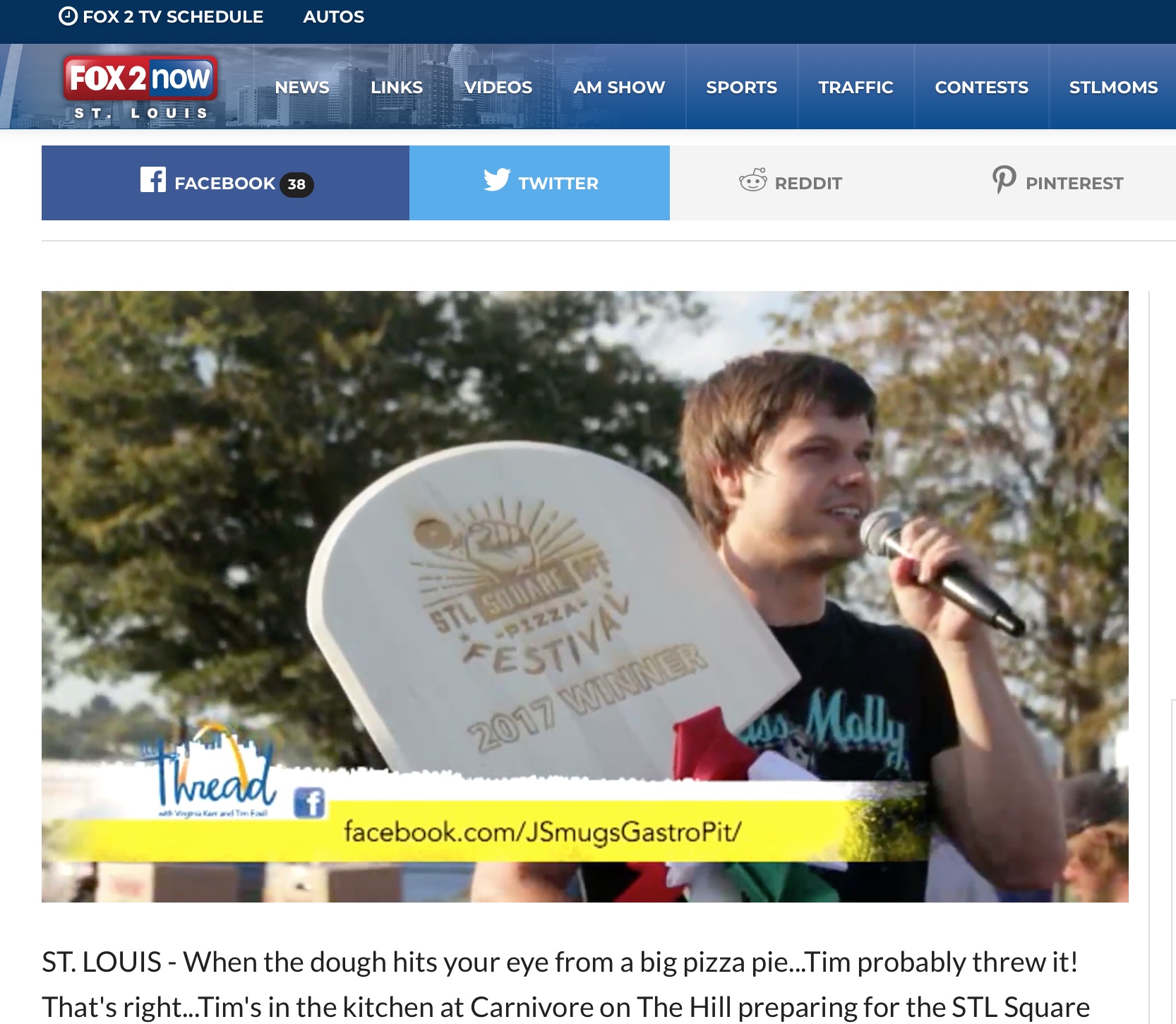 The Thread – More Than Pizza
ST. LOUIS - When the dough hits your eye from a big pizza pie...Tim probably threw it! That's right...Tim's in the kitchen at Carnivore on The Hill preparing for the STL Square Off Festival, celebrating St. Louis style pizza. Could Tim be the next great pizza chef? Probably not, but there's more than pizza going on in this episode. The STL Square Off benefits Hill 2000 Neighborhood Association, which moves to the needs of The Hill community simply by doing what they do best: food, events, and community. Dewey's Pizza does more than just feed the community, they do much more through the DewMore initiative. At 103 years young, Virginia Leitner is giving back through her art. Rodney Smith Jr. is impacting the world with a lawnmower. Meet these amazing people doing amazing things by simply doing what they do, Saturday at 8:30am on Fox 2.